Straight warp conveyor belt designed for recycling
DX Flex straight warp conveyor belt for example is handling all sorts of timber from broken pallets to construction timbers in a Northern wood Re-cycling plant. All types of wood with the associated metal components are loaded into the feed hopper. The first stage of the process is to crush and shred the input timber into a more manageable size for ease of handling and future utilisation.
At first it appears as a fairly simple process of loading the product into the machine and allowing the machine to crush it down to a smaller manageable size and then transport away the resulting material on a conveyor belt. The conveyor belt is however subjected to enormous risks of ripping due to the ingress of rogue metal components such as nails.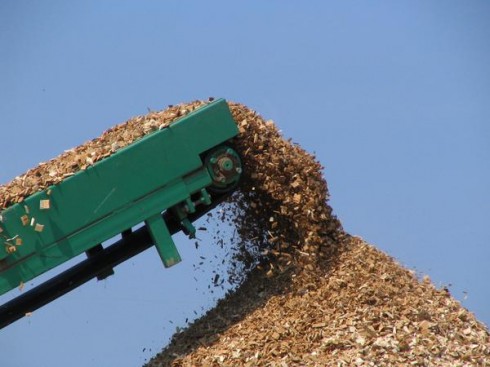 Though the plant is protected by an over band magnetic separator, it still leaves the receiving conveyor belt exposed to attack by pieces of sharp metal immediately under the crusher and prior to the over band separator.
The shards of metal can be almost like bullets fired out of the bottom of the crusher piercing the cover and becoming lodged in the conveyor belt. This in itself is a destructive force to the belt but of greater risk of damage is for the shards (sometimes complete nails) to become jammed in the conveyor system and ripping the belt as it rotates.
Some belts were only lasting 2-3 weeks and having to be patched up and replaced, which was highly unsatisfactory for the operator of this intensive hard working plant.
Understandably frustrated with the cost of repair and of lost production time we proposed to the operator the installation of DX-FLEX straight warp 400/1-800-4+2 conveyor belt. A straight warp conveyor belt is composed of thick twisted polyester textile cables; the Warp is inserted between 2 layers of weft textile made of thick twisted polyamide. The plant also had relatively small diameter pulleys so it was not an option to use heavier duty EP conveyor belts; we required a lightweight highly flexible belt with high tear resistance. Six months later, despite penetration of the DX-FLEX belt by the numerous shards of metal there have been no rips to report and continuous production has been maintained throughout.
To find more information http://www.cobra-europe.co.uk/dx-flex-belts